About Rennie Grove Hospice Care
Rennie Grove Hospice Care is a charity providing specialist care and support for adults and children with a life-limiting illness in Bucks and west Herts.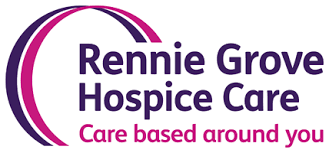 24/7 Responsive Hospice Care at Home
Through our unique Hospice at Home service, available day and night, and a range of day services we support our patients to live the best quality life they can with a choice about how and where they are cared for towards the end of life.
We are also here for the families of our patients, ensuring that everyone can receive the right support, when they need it, to help them make every moment together matter.
We rely on the generosity of people like you to fund around 87% of our £7.6 million annual running costs, and your help is invaluable to us in meeting our fundraising challenge.
How We Got Started
Rennie Grove Hospice Care was formed in 2011 when two hospice charities – Iain Rennie Hospice at Home and Grove House – joined forces. In 2015, Rennie Grove Hospice Care marked 30 years of caring for patients and families in Herts and Bucks. 
How we are funded
We rely heavily on public support to raise ​around 89% of our annual running costs. It is the generosity of people like you that allows us to help all the families who need us.
Our Vision
Our Vision is that every adult and child with life-limiting illness can choose how they want to be cared for knowing they will receive exceptional specialist palliative care. 
Our People
Our people are our greatest asset. Our supporters, staff and amazing volunteers all contribute to the success of Rennie Grove Hospice Care. We value everyone's contribution and aim to support and develop all our people in their work.
TeamFORGE Supporting Rennie Grove Hospice Care 
TeamForge supports Rennie Grove Hospice Care because many of the individuals involved have personnally experienced the services delivered by the charity. Others just want to give something back to the community by supporting the extraordinary work carried out by the charity. Either way we are committed to raising valuable funds to support them to continue to delivering their great services. 
Want to join #TeamFORGE as a cyclist?
Want to become part of #TeamFORGE and join in the cycling challenge. Here is all the information you need to make that decision to join us.
Want to Support The Isle of Wight Challenge - become a sponsor
There are many ways that you can support TeamFORGE, from corporate sponsorship to donations in kind to sponsoring individual riders.